4.7L V8
Order
Engine Size
Bore Size
MM Size
Price
Click to
Order
1999 Jeep 4.7L V8
2.580 - 2.690
65 to 68.50 mm
$180
+$40 Core
+ $12 US shipping
Click to
Order
2000 4.7L V8
2.580 - 2.690
65 to 68.50 mm
$180
+$40 Core
+ $12 US shipping
Click to
Order
2001 - 2002 4.7L V8
2.667 - 2.750
68.50 to 70 mm
$180
+$40 Core
+ $12 US shipping
Click to
Order
2003-2007 1/2 4.7L V8
2.667 - 2.750
68.50 to 70 mm
$180
+$50 Core
+ $12 US shipping
For 2007 1/2 and newer 4.7 Electronic Drive By Wire Throttle Bodies Click Here
| | | | |
| --- | --- | --- | --- |
| 99 Jeep 4.7L | 2000 4.7L | 2001-2002 4.7L | 2003-2007 1/2 4.7L |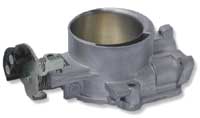 History:
Dodge introduced the 4.7 engine and started with a 65mm Throttle Body. In 2001 Dodge enlarged the Throttle Body to 68mm and is the size still used today.
IMPORTANT! Both the 65mm and 68mm TB's are really 3mm smaller than advertised because of the restriction above the throttle blades.
The Fastman 4.7 TB's remove this restriction and are a True 68.50mm bore all the way through.
Recommended sizes:
Working with the 4.7 motor has shown 68.50mm to be the optimal size for street performance use. This is the size I recommend. I can machine both the Dodge 4.7 99-2000 65mm and 2001-present 68mm TB's to a True 68.50mm bore.
Other sizes:
I can machine the 2001 and newer 4.7 TB's to bigger sizes of 69 and 70. Testing has shown the gains to be minimal and do not recommend them but I will build whatever you want. My 68.50mm TB breathes all the air your 4.7 TB will ever need. This includes a Kenne Bell blown 4.7.